Working from Home? Grab These Office Supplies & Other Essential Items
Great Office Supplies for the Home Office
Over the past few years, the concept of working from home is one that's become more acceptable for companies across the country. Recently, the spread of the coronavirus has made working from home a standard practice. Thousands of office workers are staying home to keep healthy, but some don't know how to make the transition properly.
To make sure you're keeping up with your work, in spite of a new work environment, you should buy these office supplies. From furniture to other tools, these products will help you stay productive while you're at home and you can get them with contact-free delivery.
Ergonomic Office Chairs
The most important thing to have for any home office is an ergonomic office chair. Working from the sofa or your bed isn't a good idea, since doing so could cause long-term harm to your posture. You need a proper chair to sit in so you can maintain good posture while you're working out of the office. 
One good option is the Mesh Mid-Back Task Chair from HON. Both stylish and comfortable, this task chair's mesh back provides support for the lower part of the back. Its padded armrests also allow you to rest your arms without putting stress on them.
If you're looking for a cheaper option, the Swivel/Tilt Mesh Task Chair from OIF is also recommended. Its curved back is designed to support the shape of the back, and its armrests can be adjusted freely.
Desk Lamp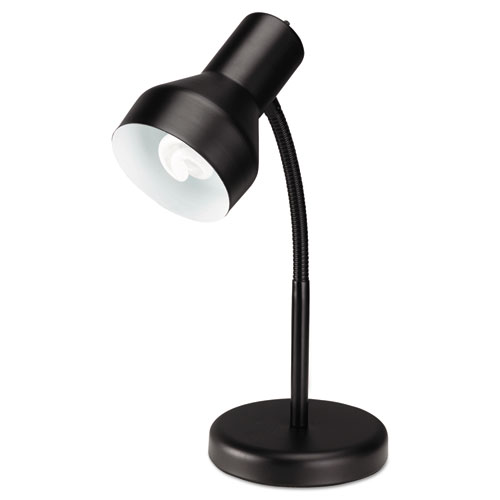 To avoid eye strain while you work, it's important that you get plenty of natural light. However, due to the sudden circumstances of having to work at home, you may not be able to set up a workspace near a window. To ensure that you get plenty of light, you should buy yourself a desk lamp.
The Alera Task Lamp is an excellent option. It's quite efficient despite its lower price point, and with its gooseneck arm you can freely adjust the lamp to point at any part of your workstation. Thanks to its weighted-based, you won't have to worry about it skidding across your desk.
Monitor Riser / Stand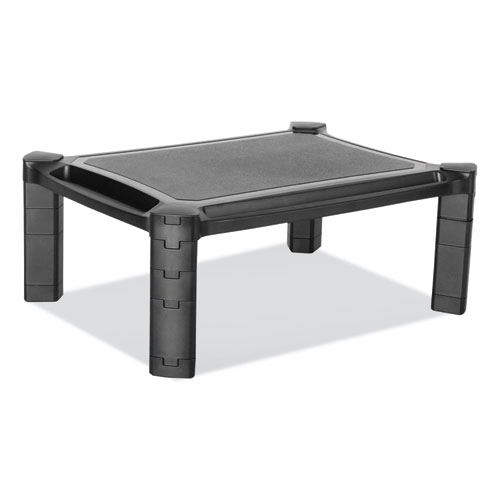 Even while you're working at home, office ergonomics are still very important. Over the course of the workday, your eyes should be level with the computer monitor so you can avoid eye and neck strain. If you can't do this in your current setup, you'll need a monitor riser for your desk.
The Large Monitor Stand from Innovera is our recommended choice, thanks to its stackable tier system. Using its stacking columns, you can set your ideal height at any time, so you can make adjustments when you need to. The columns also come with non-skid bases, so the stand won't slide around as you work.
Dry Erase Calendar
If you've been working from home for a while now, chances are you're losing track of which day of the week it is. You're not alone; for dozens of office workers it feels as though each new workday blends right into the next one. This can be problematic if you have deadlines though, so you need a way to keep track of tasks you have over the coming weeks.
That's why you need a Magnetic Dry Erase Calendar for your new workspace. By hanging one of these up in your workspace, you can take notes and mark upcoming deadlines. That way, you'll never have to worry about losing track of which day it is.
Noise-Cancelling Headphones
One of the biggest challenges of working at home is dealing with outside noise. Between people working outside and children playing, it's easy to get distracted while you're trying to get your work done. If you don't have a pair of noise-cancelling headphones to use at home, we recommend that you pick some up.
A great recommendation would be the HP/ NC- II Noise Canceling Headphones. The over-the-ear design helps block outside noise, while providing high quality audio. Try using them to play some light, calming music to keep cool and collected during the workday.
Other Helpful Supplies
Here are some miscellaneous items you may want to consider picking up for your home office:


Although many offices are eager to welcome back their employees, if yours had a collaborative style layout, you can probably expect to be home a little while longer. These offices will take time to reconfigure to get up to CDC code, making your home office set up that much more important.
If you need supplies for while you're working from home,
shop from CMF Business Supplies today.
https://www.cmfsupplies.com/wp-content/uploads/2020/04/cmf-wfh-feature.jpg
313
843
DJ Hunsinger
https://www.cmfsupplies.com/wp-content/uploads/2015/05/website-logo-300x138.jpg
DJ Hunsinger
2020-04-08 16:58:19
2021-01-27 21:26:33
Working from Home? Grab These Office Supplies & Other Essential Items